1)
Choose production
2)
Choose performance
3)
Choose seats
4)
Select tickets
5)
Complete sale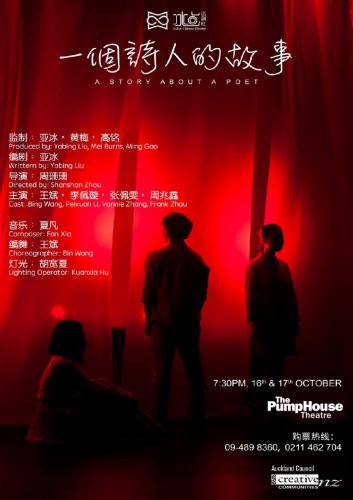 Click here to book a season ticket for both A Story about A Poet and Dial M for Murder
A Story about A Poet is the third originally-written stage play by Milford play-wright/producer Yabing Liu of I-start Chinese Theatre. This heart-touching play was a hit with the audience when it was showcased at The PumpHouse's 40th Anniversary celebrations in May 2017. Although performed in Mandarin, the mainly English-speaking audience was entranced by the actors' moving and poignant performance proving that language is often no barrier to the enjoyment of art and the telling of a story.
A Story About A Poet, which is inspired by the life of the Chinese/New Zealand poet Gu Cheng, is reportedly I-start Theatre's 'audience favourite' to date.
Hence at the request of many who missed it, A Story About a Poet returns to the PumpHouse stage.
Gu Cheng was a famous Chinese poet who lived and eventually died on Waiheke Is-land. The poet became depressed and restless after his lover left him. However his wife encouraged and supported him to write a novel, based on the love story about him and the other woman. This touching story shows how the process of writing the novel witnesses the complex and unusual emotional journey about love and death.
"一个诗人的故事"是冰点话剧社自成立以来的第三部原创作品。四月在水泵房剧场上演后反响热烈。应一些没有看到这部剧的观众的要求,重新回到舞台。这个故事是以著名中国诗人顾城的感情生活为蓝本创作的一部话剧。 诗人在被自己的情人抛弃后,陷入到忧郁与挣扎中,于是开始在妻子的帮助下写作一本书,而这本书是有过他和另外一个女人的爱情故事,在这个写作过程中展现了爱情和死亡奇异而极致的感情经历。
I-start Chinese Theatre was established in 2014. Since then, three original plays have been produced, all receiving very good reviews from audiences, Chinese Media and local media.
I-start Theatre's first play, Nice to Meet You, was a great success when staged at The PumpHouse, and was even reported on by CCTV in Beijing. The second play, 56 Chang De Road, was also a hit in the local Chinese community.
I-start Theatre aims to give Chinese amateur theatre performers a stage on which to show their talents, and at the same time provide original stories inspired by real life, to entertain and inspire audiences of all cultures.
冰点话剧社成立于2014年9月26日,在短短三年间已经出品了三部原创话剧以及一部改编经典剧,成员已经发展到近百人。第一部原创情感话剧Nice to Meet You在the Pump House 首演即在华社引起轰动,本地主要华语媒体和中国官方媒体都报道了新西兰第一家华人剧社演出成功的消息。2016年的第二部原创悬疑剧"常德路56号"也获得了广泛的好评。而根据诗人顾城的感情生活创作的《一个诗人的故事》被称为冰点成立以来的经典之作。冰点话剧社的目标是给奥克兰的话剧业余爱好者一个实现梦想的舞台,同时用最贴近生活的原创话剧给观众以精神上的娱乐与启迪。
Select a performance to book tickets for:
Additional fees for this booking (all prices in $NZ and include GST)
| | |
| --- | --- |
| Booking Fee | $5.00 per booking |